Small Animal Services:
Because of the shorter lifespan of our pets, we stress the importance of an annual physical examination. Thorough check-ups and preventive care can help alleviate serious health problems. We offer a wide range of veterinary services to keep your companions feeling their best:
Diagnostic and Therapeutic Services: Our hospital is equipped to provide diagnostic and therapeutic services to care for your pets' complete health care needs.

Surgical Services: Our surgical suite provides for the performance of a wide variety of surgical procedures.

Radiology Services: Our on-site, X-ray equipment provides high quality radiographs to aid in the quick diagnosis of many disorders.

Dentistry: Our dental services include teeth cleaning and polishing, tooth extractions and minor oral surgery.

Laboratory: Our in-house laboratory facilities provide for serology, urinalysis and parasite testing. We also utilize commercial veterinary laboratories for specialized diagnostics and consultations.

Permanent identification: We offer microchip identification.

Pharmacy: We maintain an inventory of pharmaceuticals, vitamins, shampoos, flea and tick control products and heartworm preventatives to meet the needs of your pet. We also carry a full line of prescription diets.

Dietary Counseling: We will provide guidance regarding your pet's nutritional needs for each life stage, including dietary requirements for growth, weight maintenance and performance.

Behavioral Counseling: We can provide advice regarding the correction of problems such as excessive barking, chewing, spraying, scratching, digging, house soiling and aggression.

Cremation Services: In your time of need, we also offer compassionate cremation services.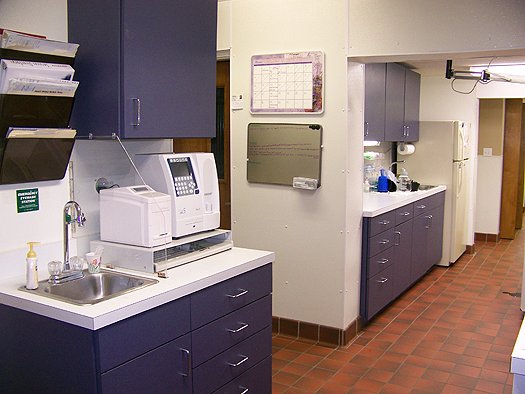 In House Blood Machine for CBC & Chemistry Panels
Cat Surgeries include:


Medical exam, hospitalization, pre-surgical blood and urine testing, surgery, anesthetic and pre-operative pain injection

Dog Surgeries include:
Medical exam, hospitalization, pre-surgical blood testing, surgery, anesthetic and pre-operative pain injection

PLEASE CALL CLINIC AT (765) 629-2134 TO OBTAIN CURRENT PRICING INFORMATION AND TO SCHEDULE AN APPOINTMENT.